ProSolv
Drop-in replacements for nPB
Are you still using 1-Bromopropane (n-propylbromide or nPB) for vapour degreasing?

nPB needed authorisation for use from July 2020.
nPB (n-propylbromide) replacement solvents 
n-propylbromide and other solvents requiring authorisation for use in vapour degreasing and metal cleaning will not be available after July 2020.
If you are using n-propyl bromide or trichloroethylene vapour degreasing  solvents EnviroTech can offer excellent replacement products developed from 40 years of supplying market leading cleaning solvents to the engineering industries. 
Economical drop in vapour degreasing solvents replacements for nPB:

High performance critical cleaning at a lower cost
than other solvent cleaners
ProSolv® vapour degreasing solvent is a proprietary tertiary azeotropic formulation developed as a direct "drop In" replacement for n-propyl bromide and other chlorinated solvents.
ProSolv® is extremely stable and simple to use meeting all the increasingly stringent legislative demands for safer, non flammable solvents with a low environmental impact in the precision engineering industries.
ProSolv® is an excellent choice to replace flammable solvents such as MEK, Acetone, Iso propyl alcohol (IPA) or hydrocarbons where manual wiping or brush cleaning is the preferred cleaning method.
ProSolv® offers a cost effective replacement in formulations for dip, spray or aerosol applications and as a fast drying carrier solvent for oil, silicones and other and other formulations.  Read more.

New sustainable zero OPD and zero GWP solvent blend for high performance vapour degreasing and cleaning
ProSolv5408e®  is a new solvent blend from EnviroTech Europe which ticks all the boxes with the perfect profile for a vapour degreasing solvent. Soft on the environment and safer for users. High performance, improved cleaning, lower costs. Sustainable and secure for future use as your forever solvent.
Lower boiling point, economical with energy with low solvent losses, faster production, reduced costs, easy handling. Exceptionally low surface tension to penetrate micron sized holes and close contact surfaces. ProSolv5408e® is the perfect replacement for hazardous solvents such as trichloroethylene, nPB (n-propyl bromide), perchloroethylene or flammable solvents used in general engineering cleaning processes.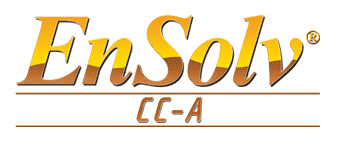 The EnSolv CC-A® formulation responds to the need for high performance vapour degreasing  solvents for cleaning in general engineering, aerospace, medical optical and electrical industries.
EnSolv CC-A® contains a proprietary blend of inhibitors and stabilisers for the solvents to prevent water staining and corrosion of yellow metals such as copper, brass and bronze which can be a problem with some other solvents.
EnSolv CC-A® removes cutting oils, lubricants, lapping compounds grinding pastes and water based cutting oils or fluids. This complex synergistic blend utilises environmentally compliant solvents combined with selected surfactants to remove oils and lubricants to the highest standards for critical cleaning applications and releases and suspends inorganic solids and soils such as fingerprints, polishing compounds and grinding paste from finely finished and highly polished surfaces such as stainless steel and plated parts, optical lenses and components for medical appliances.
EnSolv CC-A® is non-flammable, stable and specifically formulated for use in any vapour degreasing equipment with the added advantage of lower solvent usage, greater stability and reduced costs. The formulation is compliant with all current environmental and user safety legislation.  Read more.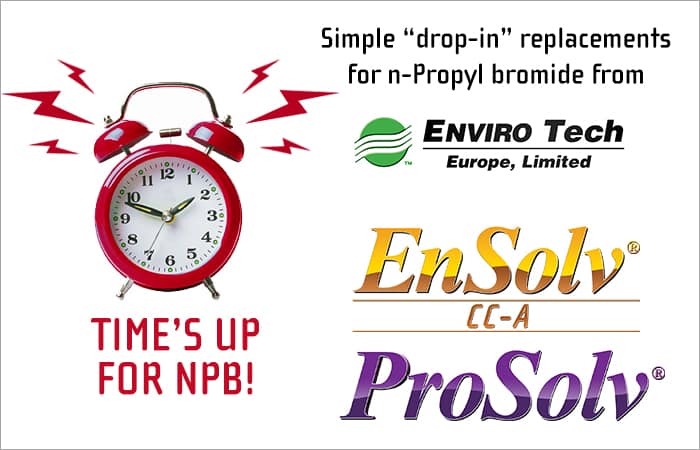 ProSolv Benefits
EFFICIENT AND ECONOMICAL
Non Flammable (No Flash Point)
High Solvency (KB Value 91)
Low Surface Tension, Low Boiling Point
Highly productive and economical in use
Stable in use no additives required
Minimal Non Volatile Residue
No Hazardous Air Pollutants (HAPs)
Compatible with metals and most plastics
SNAP Approved for Degreasing
Zero Ozone Depletion Potential (ODP)
Low Global Warming Potential (GWP)
Non Hazardous for transportation
Acid Acceptance Testing not needed
Excellent performance with ultrasonics
ProSolv 5408e Benefits
EFFICIENT AND ECONOMICAL
Non Flammable (No Flash Point)
High Solvency (KB Value 98)
Very low surface tension for penetration
into the micron level crevices and holes
Highly productive and economical in use
Mid-range boiling point processed components easily handled (48

°

C)
Minimal non-volatile residue (>10ppm)
Stable with no additives, no testing required
High density solution excellent for
ultrasonic cleaning
SAFE FOR THE ENVIRONMENT​
Near Zero ozone depletion potential (ODP)
Low Global Warming Potential (GWP)
Non hazardous for transportation
Not classified as a carcinogen
SUPPORT AND INFORMATION
Customer service, technical support and training from qualified distributors throughout Europe
EnSolv CC-A Benefits
EFFICIENT AND ECONOMICAL
Designed for vapour degreasing
Removes oil, grease and soils fast
Simple drop in replacement for N Propyl Bromide and Trichloroethylene
Low surface tension
Reduced costs
Compatible with all metals
User friendly
Increased production
Faster cleaning cycles
Components easily handled after cleaning
Safe for the environment
We can provide you with a Material Safety Data Sheet, independent laboratory reports, product samples or technical assistance. For more information or advice please contact us by telephone on +44 (0) 20 8281 6370 or use our contact form.
Vapour degreasing solvents are supplied and supported by EnviroTech Europe Ltd.  Manufactured in the United Kingdom and available on short delivery times through our dedicated team of distributors in Europe and the Middle East.