A methylene chloride based solvent with a unique blend of surfactants giving it a superior cleaning quality.
This formulation builds on 30 years of experience supplying the EnSolv® range of powerful and reliable vapour degreasing solvents to industries worldwide.
EnSolv CC-A® responds to the need for high performance vapour degreasing  solvents for critical cleaning in general engineering, aerospace, medical optical and electrical industries.
EnSolv CC-A® contains a proprietary blend of inhibitors and stabilisers for the solvents to prevent water staining and corrosion of yellow metals such as copper, brass and bronze which can be a problem with some other solvents. Removes oil, grease and soils fast. Read more…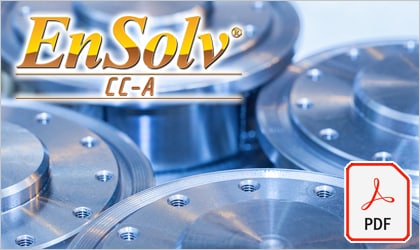 Featured Article – Vapour degreasing in engineering, aerospace, medical & electrical industries… Read more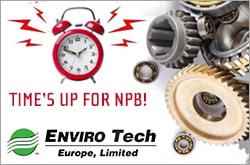 Deadline for solvents needing authorisation was July 2020
We can provide you with a Material Safety Data Sheet, independent laboratory reports, product samples or technical assistance. For more information or advice please contact us by telephone on +44 (0) 20 8281 6370 or use our contact form.
Vapour degreasing solvents are supplied and supported by EnviroTech Europe Ltd.  Manufactured in the United Kingdom and available on short delivery times through our dedicated team of distributors in Europe and the Middle East.
Video one: ProSolv Precision Cleaning Cycle using Solvac hermetically sealed equipment
Video two: EnSolv Precision Cleaning Cycle using Solvac hermetically sealed equipment
Video three: How Vapour Cleaning Works
Video four: EnviroTech Europe – The Best In Surface Treatment
Vapour degreasing is the simplest and most effective degreasing and cleaning process.
Update on a safe occupational exposure level for 1-Bromopropane.