Vapour Degreasing Solvents
Our vapour degreasing solvents are widely regarded as the best in the industry. Each of our products exact to high standards in accordance with strict quality control procedures. Read more.

ProSolv5408e®  is a new solvent blend from EnviroTech Europe which ticks all the boxes with the perfect profile for a vapour degreasing solvent. Soft on the environment and safer for users. High performance, improved cleaning, lower costs. Sustainable and secure for future use as your forever solvent.
Lower boiling point, economical with energy with low solvent losses, faster production, reduced costs, easy handling. Exceptionally low surface tension to penetrate micron sized holes and close contact surfaces. ProSolv5408e® is the perfect replacement for hazardous solvents such as trichloroethylene, nPB (n-propyl bromide), perchloroethylene or flammable solvents used in general engineering cleaning processes.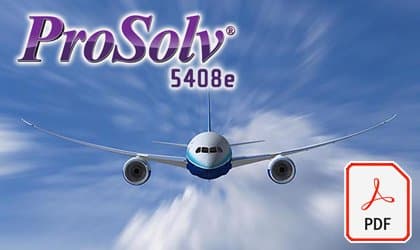 EnviroTech Europe has been supplying industries for over 30 years with a range of vapour degreasing, corrosion protection, metal and surface cleaning products.
Latest Article – ProSolv 5408e sustainable cleaning solvent for vapour degreasing in the aerospace industries… Read more
We can provide you with a Material Safety Data Sheet, independent laboratory reports, product samples or technical assistance. For more information or advice please contact us by telephone on +44 (0) 20 8281 6370 or use our contact form.
Vapour degreasing solvents are supplied and supported by EnviroTech Europe Ltd.  Manufactured in the United Kingdom and available on short delivery times through our dedicated team of distributors in Europe and the Middle East.
Video one: ProSolv Precision Cleaning Cycle using Solvac hermetically sealed equipment
Video two: EnSolv Precision Cleaning Cycle using Solvac hermetically sealed equipment
Video three: How Vapour Cleaning Works
Video four: EnviroTech Europe – The Best In Surface Treatment
Vapour degreasing is the simplest and most effective degreasing and cleaning process.
Update on a safe occupational exposure level for 1-Bromopropane.