Major Production Benefits After Switching To EnSolv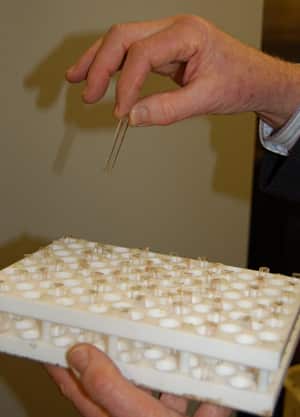 Manufacturer of precision optical products achieves major production benefits following switch from 'trike' to EnSolv

®

.
Cleaning times reduced and failure rates minimised
World-leading specialist in the manufacture of high-precision ultraviolet and infrared optical products for scientific and industrial applications – Starna Scientific Ltd, based in Hainault, Essex, UK – reports major production benefits following its recent adoption of EnSolv®, the cleaning solvent from EnviroTech Europe, specially formulated for critical component cleaning tasks. The solvent is used in a fully sealed 'MEG' machine from Italy, supplied by Core-Chem Ltd, also the main UK distributor of EnSolv®.
Starna utilises EnSolv to effectively remove wax-based products or "blocking wax", which is employed for holding glass and quartz optical components onto production tooling, and to thoroughly clean the parts prior to subsequent assembly or coating processes. Its adoption has substantially reduced cleaning times and minimised failure rates.
The company previously used trichlorethylene ('trike' or 'TRI') in an old open-top tank for this vital cleaning operation but, with the reclassification of this product as a known carcinogen and the advent of the ECSA (European Chlorinated Solvent Association) "voluntary agreement" banning the use of trike in open-top tanks, Starna Scientific sought an alternative.
An opportunity to improve efficiancy

Trike also had a number of drawbacks that the company had "lived with" for a number of years, particularly high solvent consumption and the possibility of a significant failure rate because of high solvent to ambient temperature differential – the situation therefore presented an opportunity to revisit the effectiveness of the cleaning operation and improve its efficiency.
A number of alternatives were investigated – including aqueous cleaning, HFCs, HFEs, perchlorethylene and methylene chloride – however, following in-depth cleaning trials carried out by Core-Chem at its Slough demonstration facility and at MEG's manufacturing facility in Italy, none offered the benefits of the EnSolv/MEG combination.
EnSolv provides the same solvency power as trichloroethylene and operates at a lower temperature (69 degrees C), which is high enough to break down the heavy wax whilst also avoiding the danger of thermal shock and cracking of the delicate components; these are often ground or polished to incredibly tight tolerances measured in wavelengths. Solvents operating at a higher temperature can cause damage to the parts, whilst those working at a lower temperature are not effective at removing the wax.
The introduction of the MEG automated, fully sealed cleaning machine has also resulted in a number of other benefits: in particular, protecting operators from possible solvent emissions, which presented a constant potential hazard with the former manual open-tank process using trichloroethylene. Also, because the machine is programmable, it has enabled Starna to select one of 10 process programs dedicated to each type of optical component – ensuring complete control over quality, monitoring and analysis of the cleaning cycle, without manual supervision. Various cleaning options are now available, including vapour degreasing, agitation and ultrasonics. In many instances cleaning cycle times have been cut from over 30 minutes, to just a few minutes
"The versatility offered by the change to the EnSolv/MEG combination has given us a fresh perspective on all the critical cleaning processes we undertake," says Keith Hulme, Director of Starna Scientific Ltd. "At some stage in the production cycle, everything we manufacture passes through the cleaning department – often several times – so we have been able to look at established practices and modify them accordingly, which in many instances has resulted in significant improvements in productivity. In fact, the new system has enabled us to substantially upgrade this part of our operation."
He also reports that there were no major problems with the installation and commissioning of the MEG machine by Core-Chem personnel: "Just some minor tweaking of program parameters to match our specific requirements."
In situ operator training was provided by Core-Chem and, in just a few weeks, the machine proved its worth, with as little as 4 litres of solvent used each week and the need for clean-outs – due to the high volumes of wax being used – has been cut from every four weeks before to every four months now. This is in addition to marked improvements in cleaning quality and the savings in time.
Specially formulated for cleaning precision parts
EnSolv® has been specially formulated for the cleaning of precision parts – in the electronics and aerospace fields, for example, as well as for optical components. It has a high solvency power and has the ability to breakdown not only waxes, as at Starna Scientific, but also heavy oils, greases, lapping pastes, buffing compounds and many other surface contaminants. It can be employed as a drop-in replacement for trichloroethylene and is a highly effective vapour degreaser, especially when used in conjunction with ultrasonic agitation. It is non-flammable and non-carcinogenic and has been approved by major aerospace companies, including Boeing, Airbus and BAe Systems. It is particularly suitable for cleaning long-drawn pipe work, such as oxygen and fuel lines, an application for which it is being used very effectively by a number of defence and aerospace organisations.
In addition to MEG equipment, EnSolv® can be used in most types of solvent cleaning and vapour degreasing machines. EnviroTech Europe and Core-Chem Ltd have worked with many manufacturers of component cleaning systems worldwide on the development of tailored cleaning processes. Core-Chem prides itself on providing impartial advice on precision component cleaning requirements, and worked closely with Starna personnel and EnviroTech Europe on the development of the EnSolv® process adopted by Starna Scientific.
We can provide you with a Material Safety Data Sheet, independent laboratory reports, product samples or technical assistance. For more information or advice please contact us by telephone on +44 (0) 20 8281 6370 or use our contact form.
Vapour degreasing solvents are supplied and supported by EnviroTech Europe Ltd.  Manufactured in the United Kingdom and available on short delivery times through our dedicated team of distributors in Europe and the Middle East.