DUE TO LEGISLATION THIS PRODUCT MAY NO LONGER BE AVAILABLE FOR SALE
Information in this section is retained for reference only
EnSolv® products, invented and patented by Envirotech (ETE), have been a market leader all over the world for n-bromopropane (nPB) based vapour degreasing solvents  - now moved to Annex XIV of REACH regulations by ECHA so nPB solvents cannot be used without authorisation after July 2020.
Using the experience of 40 years supplying and supporting users of the vapour degreasing process ETE specialists have developed "drop in" alternatives:
ProSolv®  and EnSolv CC-A®  give the same level of enhanced performance and economy as the original EnSolv® products.
Please contact our experts who are available to discuss your uses and propose the best replacement product.
Support With Replacing Trichloroethylene
EnSolv® is the industry standard for replacing Trichloroethylene, HCFC 141b and other chlorinated solvents. The patented azeotropic, stabilised and optimised solvent formulation ensures that EnSolv conforms to relevant ASTM and aerospace cleaning standards.
EnSolv® is a global product available in Europe and the Middle East by EnviroTech Europe Ltd. A data pack, which describes the extensive evaluation and testing programmes, which have been commissioned from independent laboratories, is available on request.
Technical Support
EnviroTech Europe through its distributors in Europe offer total service from the smallest company to multisite multi-nationals. This is included in the price of the products. As the pioneers of the use of stabilised n-propyl bromide for vapour degreasing, we have a continuous research programme to develop new solutions to precision cleaning problems which have minimal impact on people or the environment.
We recommend that EnSolv® is tested for use in your specific application for compatibility with your components, and to optimise the process for soil removal. Full testing facilities are available at our laboratories and our qualified technicians are available for on-going support at your facility for process implementation and validation, training of operators, and air monitoring and recording on site, to ensure safe use of our products.
EnviroTech Europe and their distributors are committed to the highest level of product stewardship and can advise about solvent recycling and disposal facilities where appropriate.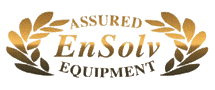 Precision cleaning for critical applications can only be achieved by combining the advanced chemistry of EnSolv

®

with well-designed equipment.
The EnSolv® Assured Equipment Team are specialists in cleaning technology operating worldwide to:

Inspect existing equipment to establish suitability and monitor use to ensure compliance with current legislation.

Select equipment suppliers for design skills and high levels of service support.

Co-operate with chosen assured
equipment supplierand your process engineers to define system parameters to meet the levels of cleanliness required.
Further information
We can provide you with a Material Safety Data Sheet, independent laboratory reports, product samples or technical assistance. For more information or advice please contact us by telephone on +44 (0) 20 8281 6370 or use our contact form.
Vapour degreasing solvents are supplied and supported by EnviroTech Europe Ltd.  Manufactured in the United Kingdom and available on short delivery times through our dedicated team of distributors in Europe and the Middle East.